moving pictures 2013
(A reminder of the rules – these best of lists are based on the films, books and music that were new to me this year. They may or may not have been released or published in 2013.)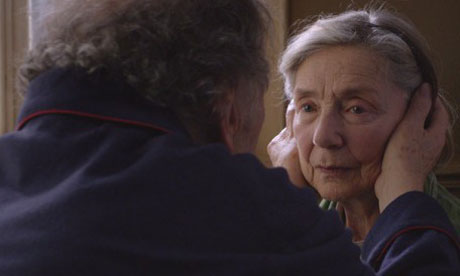 Here are the five movies which moved me most deeply, stayed with me long after they were finished, made me think and made me wonder:
Amour

Gravity

A Separation

Searching for Sugar Man

The Perks of Being a Wallflower
And here are the next five which just missed the cut: Lincoln, Django Unchained, Silver Linings Playbook, To The Wonder, The Boy With The Bike
And here are five which were just good old-fashioned, uncomplicated, pop-corn-munching, cinematic fun: The Hobbit: The Desolation of Smaug, Argo, Looper, Good Vibrations, The World's End.
I also watched and enjoyed a lot of kids' movies, of which the most delightful were The Croods, Wreck-it Ralph, Turbo and Despicable Me 2.
Biggest disappointment of the year for me was The Master, with honourable mentions for Moonrise Kingdom and Star-Trek: Into Darkness.
And by far the worst movie I watched this year was the absolute mess that is AI: Artificial Intelligence. I'd never got round to watching it, but always wondered what happens when you mix the eccentric genius of Stanley Kubrick with the populist story-telling of Steven Spielberg. Now I know. (I would also include Star Wars Episodes I-III in this category but I couldn't even stay in the room for their horrible duration).
And finally, the TV series I have most enjoyed this year have been Mad Men, Borgen, Community, The Good Wife and New Girl. After five seasons I'm now ready to officially induct Mad Men into the premium "five star" category along with some very select company (West Wing, Friday Night Lights, Firefly).
Now it's your turn. Which flickering images on the wall of your cave have most captivated you this year?